The Maxim's Restaurant
A mythical place
Since 1893, the Maxim's restaurant has welcomed all the great and the good: royalty, big money and unforgettable celebrities, who took part in the Parisian parties that created the legend that is still everywhere on the over hundred-year-old walls.
Flagship of the French gastronomy, immutable symbol of a legendary lifestyle, Maxim's forever stands among the mythical places where everybody dreams of being invited to taste the thousand and one flavours of an unequalled restaurant.
For further information on the restaurant, or for bookings, click here.
The legend of Maxim's started back in 1893 when Maxime Gaillard, a waiter, opened his first bistro, at n°3 of Rue Royale. He could have leaved it at that if it had not been for a young Parisian woman, Irma de Montigny, who appeared in his life. Thrilled and excited by what she discovered, she told Maxime Gaillard: "I will launch your bouchon". And she kept her word! She spent much time at his place with her friends, their admirers, their protectors and that was how Maxim's fabulous, dazzlingly elegant clientele of socialites was born. Unfortunately, unpaid bills started to pile up and Maxime Gaillard made way to Eugène Cornuché who was to make the house legendary.
A priceless decor
Eugène Cornuché turned Maxim's into a masterpiece of Art Nouveau, by turning to artists of the Ecole de Nancy. A unique combination of styles and periods, the decor of Maxim's restaurant, which is now considered a historic building, is a stunning expression of the splendours of Art Nouveau. Its wall seats, glass ceiling, mirrors, and its over hundred-year-old woodworks account for the splendours of the passed century and are part of the items that make the renowned restaurant of Rue Royale a genuine museum. Tours of the place are actually given on a regular basis, in order to make it possible to enter the heart of the myth and discover its collection of furniture and objects.
For further information on the Maxim's museum and collections, click here.
Legendary guests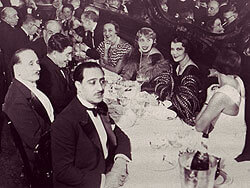 Royalty, big money and great figures of Paris early 20th century elite rubbed shoulders at Maxim's: Edward VII, Boniface de Castellane, Marcel Proust, Feydeau who wrote "The Girl From Maxim's", Mistinguett who sung "Mon Homme", French diplomat Ferdinand de Lesseps, exquisite Yvonne Printemps, witty Sacha Guitry, Tristan Bernard, Greta Garbo, Marlene Dietrich…
However, the 50s were definitely the most splendorous period of the place. Every night, Onassis, Callas, the Windsors, Martine Carol, playboy Porfirio Rubirosa, film director Max Ophuls, fabulously wealthy Barbara Huton, the heiress of the Woolworth stores, who was married to Cary Grant at that time. The elite of Hollywood would have dinner on the wall seats of the great dining room.
The same wall seats that revealed a treasure when they were replaced by the end of the 50s: the workers in charge of taking them off were dumbfounded when they found, in between the back and the seat, "Louis d'or" coins, rings, diamonds, rubies, which had fallen out of 1900 elegant ladies' pockets, who probably never even bother to pick them up, knowing perfectly that they would be given twice as much jewellery on the very next day!
In the 70s, Brigitte Bardot caused a scandal to break when she dared entering the restaurant barefoot. Sylvie Vartan danced with John Travolta, while Jeanne Moreau, Barbara Streisand, Barbara Hendrix, Kiri te Kanawa and Pierre Cardin were other regulars.....
On a night of 1981, Pierre Cardin was offered by Maxim's owners, Mr. and Mrs. Vaudable, who had nicely invited him to come for dinner, to buy out the restaurant immediately. They were supposed to sign the acquisition agreement with a wealthy Eastern group on the next day, which upset them, since if they were to do, Maxim's would be held by foreign interests. Pierre Cardin, who was exhilarated by that special night, accepted the suggestion. And on the next day, he kept his word and signed the deal.
Maxim's nights are always fanciful. Maxim's opens up to the modern artistic world that enjoys its retro style and its "so chic" atmosphere. Socialites and their informal looks are aficionados of Maxim's waiters in tailcoat, stylishly offering them drinks. Karaoke nights conquered the art intelligentsia, across all generations. La crème de la crème gathers there: Alexander McQueen, Andréa Casighari, Jean Michel Villemotte, Sophie Calle, Renée Fleming, Gloria Von Turn Und Taxi. Very similar to the crowd who was there in the beginnings of Maxim's, when young artists such as Cocteau, Feydeau, Mistinguett, Proust or Guitry would pour in.
A timeless myth
Because of its history and its uniqueness, Maxim's inspired a number of artists and was the setting of many stories, movies and plays.
In the 50s, Leslie Caron and Maurice Chevalier shot Gigi by Vincente Minelli, in which one of the memorable scenes takes place in the great dining room of the famous restaurant.
More recently, Stephen Frears (director of Dangerous Liaisons), with his movie Chéri and Woody Allen, for the deliciously nostalgic Midnight in Paris, also succumbed to the timeless charms of the most beautiful place in Rue Royale.