Maxim's gift-boxes collection for professionals
You are a company and would like to thank your customers or reward your employees?
You are part of an employee representative committee, manager of a SME or a local authority and want to offer gourmet gift boxes to your staff or allow your employees to order top brand products at an attractive price?
By offering Maxim's, you benefit from the guarantee and prestige of a very big brand, chic and gourmet products, superb gift boxes and elegant accessories so that the pleasure extends beyond the tasting.
A symbol of Parisian elegance and French art de vivre, all our delicatessen products are made in France with the highest standards. Discover without further delay in these pages, the 2020-2021 GIFTS catalogue with a collection of more than 50 boxes and prices specially designed for you, the professionals.
4 REASONS TO CHOOSE MAXIM'S
Specialized in the art of corporate gifts, our team is committed to your projects. A privileged contact is dedicated to you in order to provide you with an offer that perfectly meets your needs, from the personalization of your orders to its delivery.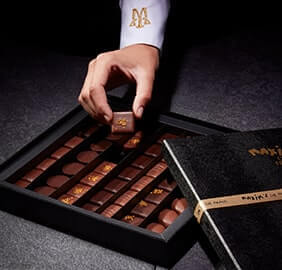 KNOW-HOW
The very best of the french gastronomy in your gift-box
Promoting the excellence of French producers and craftsmen has always been our priority.
The choice of the most beautiful raw materials
Pure cocoa butter tasting chocolate, palm oil free and GMO free: This is just one example among many of our commitments.
CHOICE
A rich catalogue: + 50 gourmet baskets available
Chocolate or foie gras inspired gift-boxes, metal boxes or hatboxes, discover a rich selection according to your tastes and desires.
A permanent renewal
A perpetual watch on new trends to bring you ever more innovative and attractive recipes and packaging.
PRICING
Our motto: High-end yet accessible
Whatever your budget, from a small pencil box to a gourmet basket, you are insured to find the gourmet gift you need.
Preferential prices
Up to 30% discount and degressive rates depending on quantities.
SERVICE
Customization and personalization
From the creation of your custom-made box according to your desires and your budget to the insertion of a personalized message, our team of experts is there to help you all along the process.
The delivery that suits you
Whether it is individual, multi-receivers, grouped, in France or abroad, we will be able to respond to your request as best we can.
Art of customization
Specialized in the art of Corporate Gifts, our team is committed to your projects. From the choice of the box to our selection of 100% Made In France delicacies, more than a hundred combinations are possible to make your own custom gift box and be sure to please!
Add to this the possibility of adding your logo on one of our sleeves, include a greeting card with your personalized message, have your gourmet boxes delivered in one of our wonderful Maxim's stamped "shopping bag" while taking advantage of a myriad of delivery options to meet your expectations: the assurance of a top-of-the-range gift, at an affordable price, that will delight them all.
Choose your theme, Sweet, Salty or Both?
To give you some sources of inspiration, we have already put together a rich selection of gourmet baskets from our Corporate Gifts catalogue.
Whether you like chocolates, biscuits or other sweet delicacies, whether you prefer a combination of wines and savoury dishes, you will have a choice of more than 200 specialities from the best French producers and craftsmen to create your personalized gift basket.
Choose your box: Hat box or metal box?
A true gastronomic exploration through elegant and harmonious boxes, our boxes are the promise of an unforgettable gift.
You will enjoy keeping a beautiful object long after you have enjoyed its contents.
Our team of "Gifts" experts has selected about fifteen different containers for you!
Your budget is our priority
Whatever your budget, we will always be able to offer you a gourmet and generous box that best meets your expectations.
Nearly one in two professional customers choose to offer a personalized Maxim's gift, so don't wait any longer and ask for your quote online!
Maxim's Services
A privileged contact is dedicated to you in order to offer you the services best suited to your needs:
A Gift to your image
Make the difference, personalize your gifts by adding your logo with a nice Maxim's knot on your boxes or a sleeve on our boxes of chocolates.
Sleeve from 3€ HT
Knot + personalized cardboard from 2€ HT
---
Personnalized Message
Add the final touch to your gifts with a personalized message that we will insert for free in your gift boxes.
---
Shopping Bag
Do you want to hand deliver your gifts? All our boxes or boxes of chocolates can be sold with their adapted shopping bag.
Depending on the bag size.
Custom Delivery
We offer you several delivery services: whether it is individual, multi-receivers, grouped, in France or abroad, we will know how to best meet your needs.
The delivery that suits you
We offer several delivery services: whether it is individual, multi-recipient, grouped, in France or abroad, we will be able to respond to your request as well as possible.

Grouped Delivery
Your entire order is delivered to the same address (15€ excl tax.).
For any order over 600€ excl tax., we will be pleased to offer you the shipping and preparation costs.
Custom Delivery
You provide us with the list of your recipients (via an excel file) to whom you would like each box to be delivered..
We submit to you within 48 hours a personalized quote and guaranteed delivery times depending on the number of deliveries and the type of recipient (company or private individual).
Your Contact
CORPORATE GIFTS:
Sabrina MALLARD
+33 2 35 59 44 92
Your Contact
CORPORATE GIFTS:
Sabrina MALLARD
+33 2 35 59 44 92
---
4 Reasons To Choose Maxim's
- 1 -
The very best of french gastronomy in one gift-box
- 2 -
Choice among more than 50 gift-boxes
- 3 -
Preferential rates for companies
- 4 -
Customization and personalization