A must in Montmartre
Following the success of our first boutique located on the Place de la Pyramide Inversé in the Carrousel du Louvre, we have decided to give birth to our second boutique in June 2016 in the heart of one of the most emblematic and charming areas of Parisian life: Montmartre.
It is the result of extremely careful design work to give it a modern look combining Art Nouveau and Parisian elegance. Where her older sister has a grandiose window display, like the Maxim's restaurant, her younger sister, more discreet, focuses on sobriety and elegance, in perfect harmony with her neighbourhood. Decorated with the sublime Maxim's red, the shop will transport you into the world of French gastronomy. Discover in a unique setting where the heart of the capital beats, the many variations of our sweet and savoury Parisian delicatessen products to offer or to treat yourself.
The decorations of Sem, the illustrator of the restaurant's menu will accompany you on your gustatory journey, just like his famous dancers, have fun, surprise yourself on our shelves to discover our inimitable recipes and make your taste buds dance to the rhythm of French gastronomy and gourmet food.
You will be tempted by a chocolate tasting in Paris. Our macarons and other sweet treats will also melt your heart with pleasure. An explosion of flavours awaits you just a few steps away from the sacré-coeur.
A gourmet outing on the Butte Montmartre
Take advantage of your visit to our boutique to treat yourself to a delicious moment on the Montmartre Hill. Whether you choose one of our many boxes of chocolates, to take away our ever-innovative macaroons or one of our gift boxes, you will have no choice but to enjoy them on the occasion of an outing to one of the most emblematic places of Parisian life: the Butte Montmartre. Seize this chance to enjoy both a breathtaking view of Paris and the Sacré-Coeur, an incomparable tasting, because after all, that is the French art of living!
A place dedicated to gastronomy
Our professionals will accompany you in the choice of your delicacies. Between foie gras, champagne, chocolates and other sweets, you will have a huge variety of choices. It is a real place dedicated to French gastronomy that is hidden in this Parisian shop.
In this magnificent space with a soft atmosphere, you will find all the Maxim's classics. Let yourself be tempted by our exclusive macarons, elaborated with care in order to fill you with delicacy. Seasonal fruity or chocolatey flavours, maxi format for the most classic recipes, compose your own assortment of macaroons to accompany your stroll at an affordable price. During a winter walk, warm yourself up with our real hot chocolate to take away.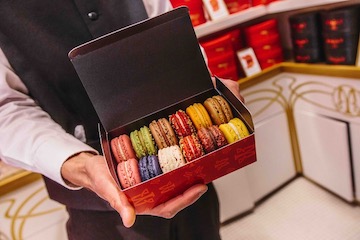 A souvenir of Paris
In our chocolate shop in Paris, discover also a selection of souvenirs to offer. Each one is more gourmet than the next and will be the ideal gift for a walk on the hill. Our selection of gifts will suit everyone and will satisfy young and old alike. Our shop is located at 14 Rue Norvins, in the 18th arrondissement of Paris. Our advisers welcome you every day from 9am to 7pm, to share with you a moment of pleasure and greediness. A must for your next stroll in Montmartre.
Practical Infos:
Location:
14 Rue Norvin, 75018 Paris
Opening Hours:
From 11am to 7pm non-stop
Closed Tuesdays and Wednesdays